Jump to Recipe
Falafel is a popular Middle Eastern food made with chickpeas, herbs, and spices. It can be fried or even baked for a healthier option, which tastes incredible.
This can be served as a snack with tahini sauce or hummus, you can also stuff them in pita bread with salads and tahini sauce.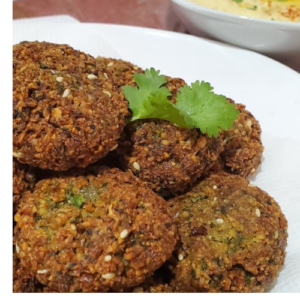 Print Recipe
Falafel
This homemade falafel recipe is absolutely delicious. It is a combination of chickpeas, herbs, and spices that are blended and fried or baked. They are crispy on the outside, moist, and fluffy on the inside.
Ingredients
1 ½

cups

chickpeas

1

onion

cubed

3

garlic cloves

¼

cup

spring onion

roughly chopped

½

cup

coriander

roughly chopped

½

cup

mint

roughly chopped

2

green chilies

1

tsp

salt

1

tsp

chili powder

1

tsp

cumin powder

½

tsp

pepper powder

½

tsp

coriander powder

½

lime juice

½

tsp

baking powder

¼

tsp

baking soda

2

tbsp

sesame seeds
Instructions
The night before, soak the chickpeas in water. Make sure the water covers the chickpeas by 3 inches, as they'll triple in size (Minimum 10 hours). Drain the soaked chickpeas completely and pat them dry.

Add chickpeas, onion, garlic, herbs, and green chilies to a bowl of a food processor. Pulse it several times until the mixture resembles the texture of coarse sand. You can process the ingredients in batches if necessary.

Transfer the mixture into a bowl, add the salt, chili, cumin, pepper, coriander, and lime. Mix well to combine everything.

Just before frying, add the baking powder, baking soda, and sesame seeds to the falafel mixture and combine well.

Scoop tablespoonfuls of the mixture and form into balls then flatten them slightly.

To fry; Heat oil in a frypan on a medium flame. Fry the falafel in batches, placing them gently into the oil.

To bake; Preheat the oven to 200°C. Place each falafel on prepped baking sheet. Bake for 15 – 20 minutes. Carefully flip the falafels and bake for another 6 – 8 minutes or until falafels are golden and cooked. Enjoy!
Spread the Joy 😋